Court can be confusing, producing anxiety for even seasoned foster parents. It is important to understand the court process and your role as a foster parent in court so that you can best advocate for the children in your home.
This conversation was originally part of a #FosterFridayLive interview about the foster parents' role in court with Robert Cone, Assistant Managing Attorney of County Operations for SC DSS General Counsel.
Here, Mr. Cone describes the Family Court process and the different types of hearings involved in a foster care case.
Probable Cause- 72 Hour Hearing
The normal process starts with the child coming into foster care by law enforcement or court order. There will be a hearing within 72 hours. There are some exceptions to that. Generally within 24 hours, we have to file the summons of complaint, the legal pleadings that start a court action, and then we have the Probable Cause hearing within 72 hours. That hearing is going to happen so fast that foster parents may or may not know about Probable Cause. The caseworker would have to tell them about it because we are still getting all the paperwork done.
It's only a 15 minute hearing. All that's decided is if there is probable cause for the child to be in foster care. From a legal standpoint, there is good reason for that child to be in foster care. You're not proving anything at that point. There's no findings that the child has been abused or neglected. Just there was a reasonable suspicion that something bad happened.
Typically if a police officer took the child into care, they're there to testify. Maybe the caseworker is there just to say, "hey, can we do a drug screen? Or a paternity test?" Sometimes we use that time to get information on the parents if they're present. Many times they haven't been served with a legal pleading because it happens so fast. A lot of times we serve them at that hearing if they show up. There are one or two witnesses. The parents can ask questions, but they cannot testify. They can't call witnesses. They can bring a written sworn statement called an affidavit and present that to the court. I don't think I've ever had a parent do that because they don't know that they can because at that point they often don't have attorneys, but they are advised of their right to request an attorney. They can go to the clerk's office and apply. That's the first step.
If it is determined that "yes" there is a reason for a child to stay in foster care then there will be a merits hearing.
Merits Hearing- 35 Day Hearing
The merit's hearing has to be held within 35 days of the child coming into foster care. Foster parents should be told when that hearing is. You don't get copies of the plea- the exact allegations. The caseworker will tell you only what is necessary to care for the child. But you should be notified of the hearing: day, time, place.
The merit's hearing is pretty much set up as "first-call" merit's hearing. Only set for 15 minutes. In a perfect world, we would have the full trial, but as a practical matter we still have parents that haven't been served or they haven't requested an attorney. Particularly if they weren't at the Probable Cause hearing they need to be informed of their rights. If they are going to contest, we likely won't reach an agreement at the first merits.
You'll notice if you've ever been to a court day, there may be 20 cases scheduled for one afternoon which is impossible to get through all of them even in a whole day. We use these days as a first merits. DSS presents "this is what we want." For example, we're going to keep the kids in foster care, here is the treatment plan, or we've identified a relative and we'll place them with the relative. If they're staying in foster care, this is the treatment plan, the finding that the child was abused or neglected, this is the visitation schedule we've set up. If they agree to all that, we can put that agreement on the record and then we don't have a contested trial. We just move forward with treatment and we're gonna come back at a later point to review how the parents are doing. But it's hard to get an agreement especially when kids who have come into foster care, things are still moving.
The agency sometimes hasn't finished their investigation because they're waiting on the results of a forensic interview or waiting on the results of a drug screen. In smaller counties, those first call merits hearings can come very quick- 10 days after a child comes into care. For example, Greenwood only has one standing docket day per month. If a child comes into care today and our docket day is next week or the following Monday, we have to get that hearing scheduled so it doesn't go past that 35 day deadline. So sometimes that hearing comes so quick that no one has had time to get it together.
Ideally, we've had some time to get an idea of what's happened and come up with a plan. What happens after that, assuming we don't have a resolution at the first merits hearing, the hearing will be rescheduled for a second-call merits. By then, everyone will have an attorney, everyone has been served. By then it may be 60 days or 65 days since the kids came into care; we have a better idea on coming to an agreement. If it's going to be contested, we need to decide how long we need for a trial. That's going to depend on what the defense attorney tells us, what we think, how many witnesses we need. Some cases are really complex. Severe physical abuse may require doctors to come talk about broken bones and what the x-rays tell us and things like that. Some cases are simpler and we only need two or three witnesses; still, the defense can bring in other people to defend their client.
We have to get input from everybody in the system. Every foster parent should be notified of each merits hearing – a note in the mail from DSS saying the day, time, and location. You have the right to speak and be heard. Understand there may not be a whole lot said if there is not an agreement. It may just be that we need to set this for a two day trial or day long trial. If that happens then at that point they will choose a date. 
When an agreement is made, there may be a judicial review hearing within 90 days to see how the parents are doing. We don't always do that.
Permanency Planning Hearing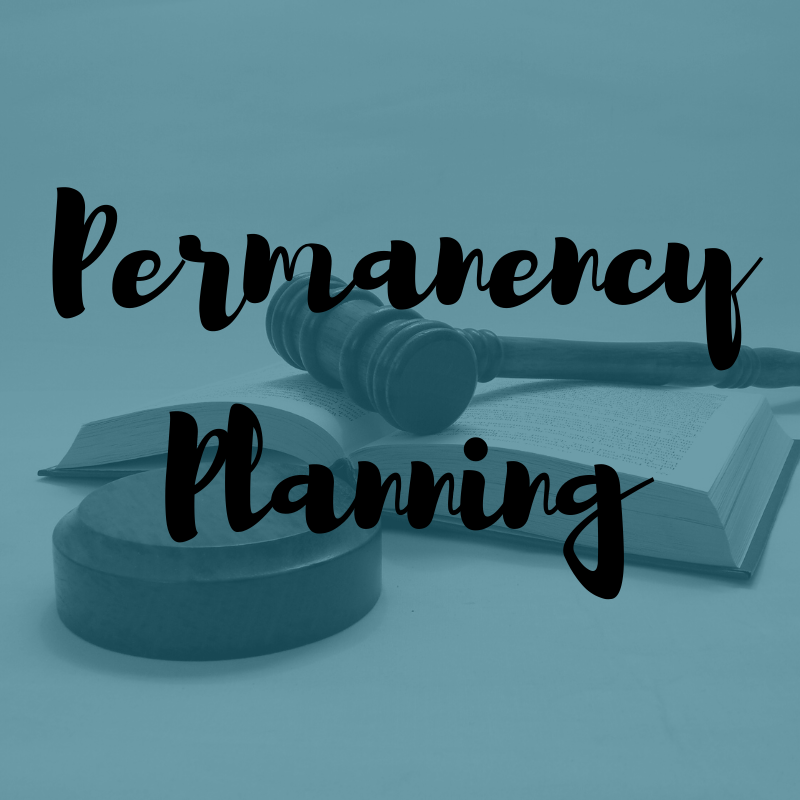 The next hearing in many cases is permanency planning. The purpose is similar to judicial review, to give the judge an update on the status of the parents' progress and the agency's plan moving forward. But permanency planning hearing is required by federal law.
We have to explain a specific plan we are pursuing- reunification, an extension for reunification (giving the parents a little more time to work their plan), we've identified a relative so placing the child with a relative, or the parents have made no progress and we may be pursuing termination of parental rights and adoption. If a child is 16 or older, we can have a plan of APPLA. That means that the child is not likely to be adopted or if the child is old enough they get a vote if they want to be adopted. If they say no, we cannot put them up for adoption. There is a little disconnect between South Carolina law and federal law. We will continue working with youth as they transition to adult living. We will keep working with them to finish school, decide if they want to go to college, make sure they have a driver's license, find a place to live and a place to work. If they're not going to pursue college, we work with them to understand their options to stay in foster care after 18 and still receive assistance from the state.
At permanency planning hearing there may be two plans. There will be the primary plan and the concurrent plan. The primary plan is what we're really working for, but the concurrent plan is the backup. Most commonly it is reunification with an extension concurrent with termination of parental rights.
One thing that has changed over the last year, whether the primary or concurrent plan is TPR, the attorneys are supposed to be filing TPR action within 60 days of that hearing and scheduling the TPR hearing. We ran into this problem of giving parents all this extra time and then waiting until all the extra time was up before filing for terminating parental rights which just extends the process. Of course, it still takes months to get a hearing for a TPR. The parents can still be working their plan while the action is filed and if we get to that hearing and parents have done everything and we're satisfied, the child can go home. That creates some confusion. You're saying reunification, but you've filed for TPR. Right, we're required to and it's basically us taking into account the fact that the court system works so slowly. If we could schedule hearings within 60 days like you're supposed to be able to, we might not do that. It can take 3-6 months to get a hearing scheduled so we are going to go ahead and start that process so that hopefully by the end the parents have done what they're supposed to do. 
You continue to have permanency planning hearings every nine months while the child is in foster care- either they have gone home or they are adopted. Or until they reach 18. The next hearing would be TPR and then adoption.
Termination of Parental Rights
TPR is actually a separate legal action that has to be filed. When children first come into foster care it's called a removal action- we've removed them from the home. But when we get to where we're going to terminate parental rights, we have to file a new legal action because the grounds for termination of parental rights are different and the standards are different. Some people call TPR the death penalty of Family Court because the standards we have to meet are so high. There are certain statutory requirements that we have to prove these things.
Foster parents are notified of all these hearings too and can participate or observe them as desired. Sometimes by TPR stage, it's not uncommon that we ask the foster parents to testify as a witness. If you, as the foster parent, are going to adopt the child, we may ask how they are doing in your home or do you and your family really want to adopt. It may be about the facts but the court still has to say i is in the child's best interest and a lot of times foster parents are good witnesses for that issue. They can say they are in a good home and are going to stay in a good home. So sometimes we ask foster parents to testify in those proceedings.
---
Resources for SC Foster Parents